October 2019
Fair Oak Cider has been shortlisted in the Best Cider Producer category of the Hereford Times Food and Drink Awards, for its Medium Still Cider. The results will be announced on 19 November.
---
Dates for open days, 2019
This year's Schools Open Day for year 6 pupils in local primary schools will be held on Friday October 25. Please contact us at 01981 241 210 if you would like your school to be invited.
Our annual Open Weekend will be on Saturday and Sunday the 26 and 27 October, from 10 till 4.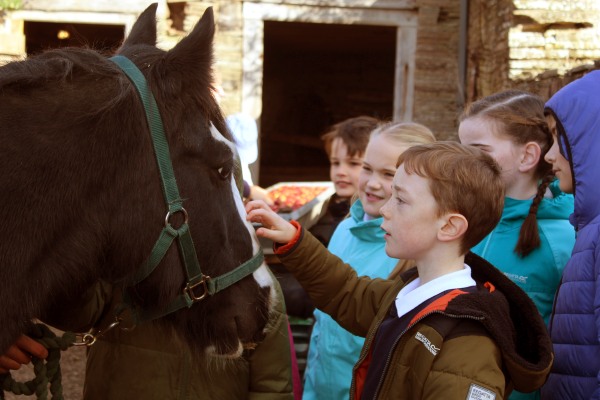 ---
August 2019
We have just launched our new Medium still cider, made from a blend of early and late apples – and nothing else. Herefordshire Redstreak, Tom Putt, Foxwhelp, Yarlington Mill, Late Somerset Redstreak, and a few Bramleys, have combined to produce a fresh, clear, fruity flavour, coming simply from the apples.
At the Llanthony Show, the Longtown Show, and tastings at Oakchurch Farm Shop and Castle Greengrocers in Hay-on-Wye the new Medium proved very popular; and it is now on sale in all of our normal shops.
---
June 2019: A new variety
Our first single variety cider, made in autumn 2018 with Kingston Black apples, is now ready, and everyone who has tried it so far thinks it's pretty good. It is medium-dry: just apples and nothing else.
The bittersweet juice of the Kingston Black is of the finest quality, with well-balanced tannin and acidity producing a full-bodied, distinctive single variety cider.
Fair Oak Kingston Black will be launched on Saturday June 22 in a tasting at Pengethley Farm Shop near Ross-on-Wye, and will be available at the CAMRA Beer on the Wye Festival in Hereford on July 5-7.
It will also be on sale in 500 ml bottles from all of our usual outlets, and in tasting boxes directly from Fair Oak Farm.
---
Scratter open day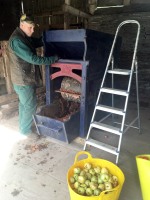 Our Victorian scratter and its Ruston Hornsby engine performed well on their first public appearance in November 2018, and (with the help of Pete McVann on the scratter and Guy Putland on the press) succeeded in producing a half-barrel of cider.
Visitors included a deputation from the cider branch of Herefordshire CAMRA; members of the Hereford and District Preservation Society; and the family of the late John George, who originally restored the scratter.
---
2018 Schools Open Day
This year for the first time we held a special open day for schools, when pupils from three local schools – Peterchurch Primary, Hereford Waldorf, and Clifford Primary – came to watch Tommy making cider. The children were clearly thrilled to meet a working horse – which they'd never seen before – and by the ingenuity of the whole process. They enjoyed tasting juice from the press, and also trying to turn both the mill wheel and the press screw. Their teachers and parents were also very appreciative.
---
Open Weekend 2018
Our open weekend was a great success. Visitors came from far and wide, and their ages ranged from one to ninety-two. Tommy the Gypsy Cob, now in his second year in the job, performed calmly and willingly, with the support of his owners, Wendy and John Lloyd. We had an enthusiastic team of helpers, including our new cidermaker, Neville Fleet, recently retired from Silicon Valley, and his two sons, Sam and Ben. We made two barrels of Kingston Black single variety cider, and one of Dabinett, using apples from orchards in Vowchurch, Cusop and Lower Maescoed; and many bottles of cider were sold.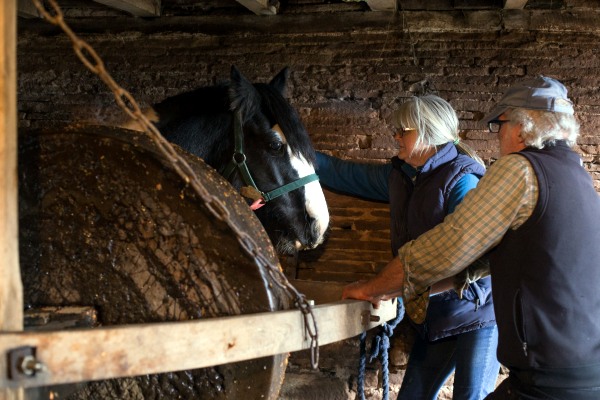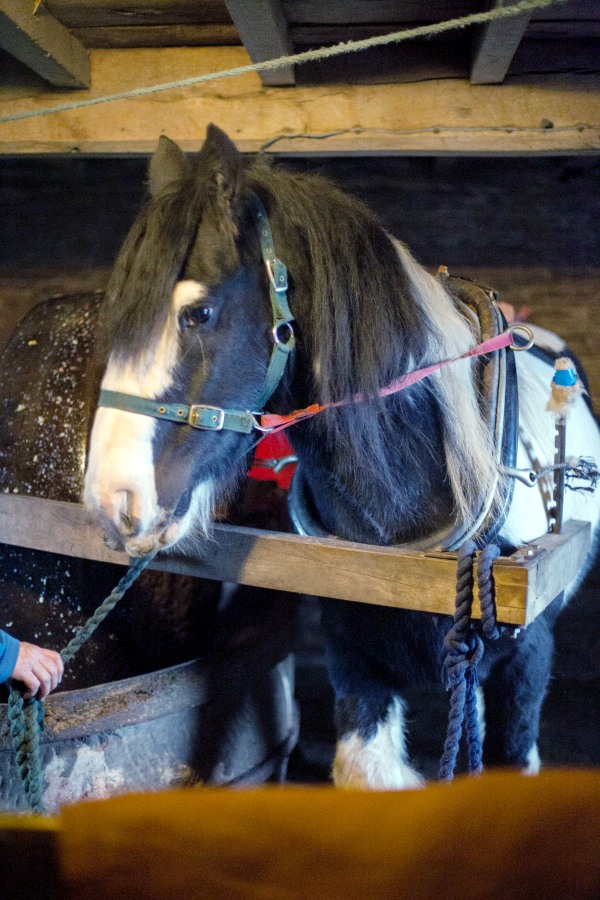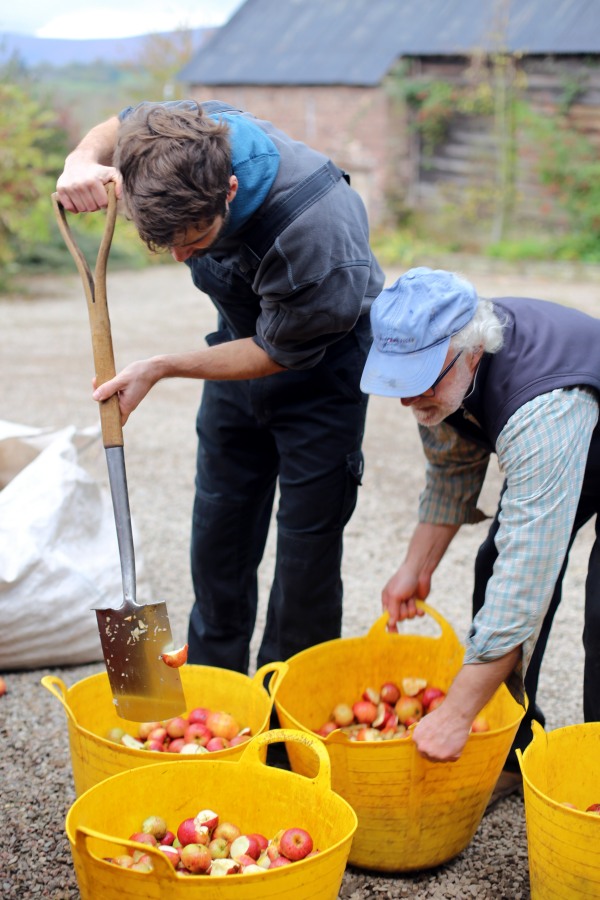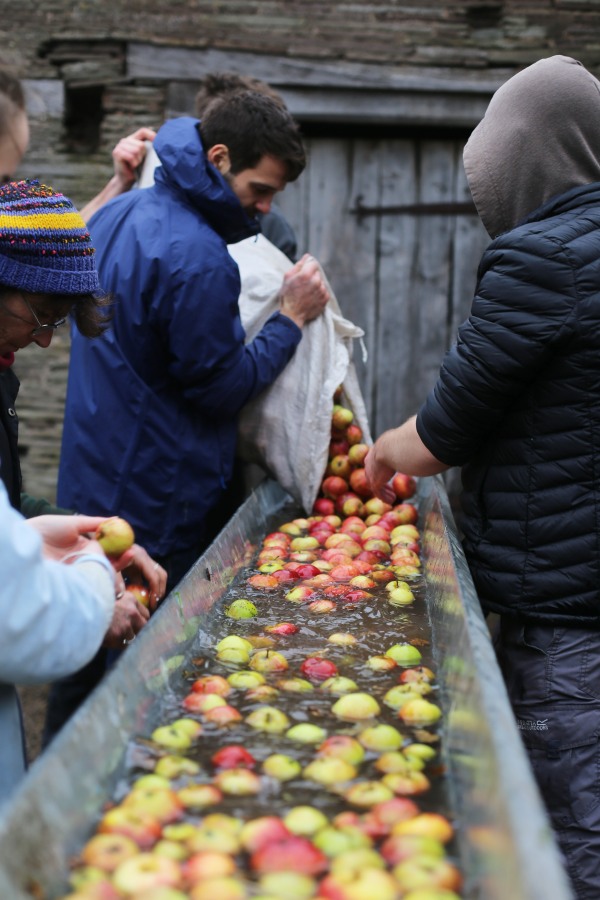 ---
A new Fair Oak product: Sparkling Cider in wine-sized bottles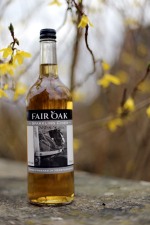 Spring 2018: We are delighted now to be able to offer a sparkling version of Fair Oak cider in 75 cl bottles.
Many of our customers had been requesting a sparkling cider, which is quite tricky to produce on a small scale. So we decided to approach Westons of Much Marcle, a long-established Herefordshire firm, to ask them to bottle a batch for us.
Mark Yemm, contract packaging manager at Westons Cider, said: 'We're really pleased to be working with Fair Oak and their traditional cider making methods. Although our founder, Henry Weston, would have been familiar with the use of horse power back in 1880, it's not something we are used to seeing in our production processes today.'
The new cider is medium-dry, gently sparkling and crystal clear. It is delicious served chilled, as an aperitif or with food. We're calling it, slightly tongue-in-cheek, Herefordshire's answer to Prosecco.
---