The start of a new season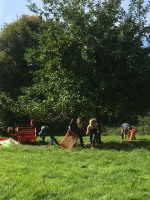 With many apples ripening early because of the hot summer, we started harvesting this week (end of September), earlier than usual. We had a day of glorious autumn sunshine for picking apples at a nearby farm along the Dulas Valley; and then another fine day to put them through our Victorian scratter (made in Somerset in 1859).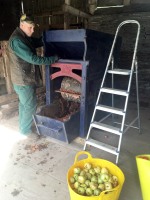 Thanks to the work of several friends and enthusiasts, the scratter and its petrol engine are now in fine working order. We're getting to know its likes and dislikes – and discovering that the apples crushed by its stone rollers produce even more juice than apples crushed in the mill. A morning's work soon filled up the press.
Over the coming weeks we shall be using the old scratter to make apple juice – and also we hope perry – before Tommy the Gypsy Cob arrives in mid-October.
---
Open Weekend 2018
We now have a confirmed date for this year's open weekend: Saturday and Sunday November 3 and 4, from 10 till 4. Visitors will be welcome to come and watch Tommy, the Gypsy Cob from Llanigon, working the mill with the help of his owners, Wendy and John Lloyd. Our cidermakers, Alan McCardle and Ed Budd, will be manning the press.
Fair Oak Cider will be available to taste and buy – including the cider made in 2017, which will finally be ready for drinking, and the new sparkling cider, launched earlier this year.
We hope to have our Victorian apple scratter working on separate days (so as not to scare the horse): dates to be confirmed.
---
A new Fair Oak product: Sparkling Cider in wine-sized bottles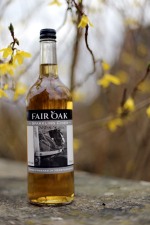 Spring 2018: We are delighted now to be able to offer a sparkling version of Fair Oak cider in 75 cl bottles.
Many of our customers had been requesting a sparkling cider, which is quite tricky to produce on a small scale. So we decided to approach Westons of Much Marcle, a long-established Herefordshire firm, to ask them to bottle a batch for us.
Mark Yemm, contract packaging manager at Westons Cider, said: 'We're really pleased to be working with Fair Oak and their traditional cider making methods. Although our founder, Henry Weston, would have been familiar with the use of horse power back in 1880, it's not something we are used to seeing in our production processes today.'
The new cider is medium-dry, gently sparkling and crystal clear. It is delicious served chilled, as an aperitif or with food. We're calling it, slightly tongue-in-cheek, Herefordshire's answer to Prosecco.
---
Open Weekend 2017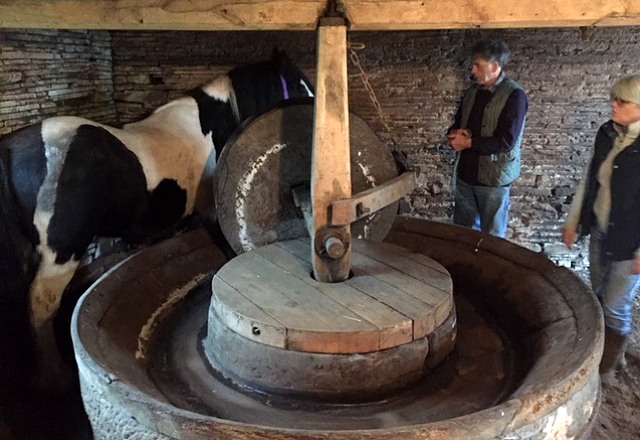 We had a highly successful open weekend in October, when we were joined by two new recruits. Pye the stallion was succeeded by Tommy, a slightly larger (14.2 hands) Gypsy Cob gelding, also bred by John and Wendy Lloyd in the hills above Hay-on-Wye. Although he had never worn a working collar before, Tommy seemed to know just what was required: and despite a steady stream of visitors coming and going, he trod calmly in the groove in the cobbled floor where generations of horses had gone before.
Our principal cidermaker, Alan McCardle, also acquired a new assistant this year: Ed Budd was keen to learn to make cider to complement the Mangalitza and Gloucester Old Spot pork he is producing on his smallholding at Dorstone, in the Golden Valley. Alan and Ed were excited to be able to make a single pressing of Kingston Black apples for the first time; so we are looking forward to seeing how it turns out next year.
Visitors of all ages also enjoyed watching the new half-hour documentary film made by David Bishop [preview] which tells the story of the restoration of the Fair Oak mill, and how the cider is made, from harvesting to wassail.
---
Victorian technology comes to Fair Oak
Fair Oak Cider has just acquired a Victorian apple scratting machine, made in 1859 by Knapton of Somerset. It was passed on to us by the family of the late John George, of Much Dewchurch, well-known locally as a vintage machinery enthusiast. He had restored it, attached it to a stationary Ruston and Hornsby petrol engine, and made cider in it for several years. We hope to have it running shortly.
---