Varieties
Fair Oak cider is made entirely of apples, with no artificial ingredients added. The flavours vary from year to year, depending on the weather and the fruiting cycle of the trees. Some trees will have a heavy crop one year and very little fruit the next.
In autumn 2019 we were able to press a wonderful range of apples, some of which we had never seen before. They included apples with wonderful names like Ten Commandments, Ladies Finger of Hereford, Porters Perfection… So now, in May 2020, we have produced three new still ciders.
Our star attraction is a single variety made with Brown's Apple – highly prized among cider makers. It produces a cider that is slightly scented, sharp and clean, with a fruity aroma. It is light, fresh and well-balanced, with an alcohol content lower than our other varieties, at 4%.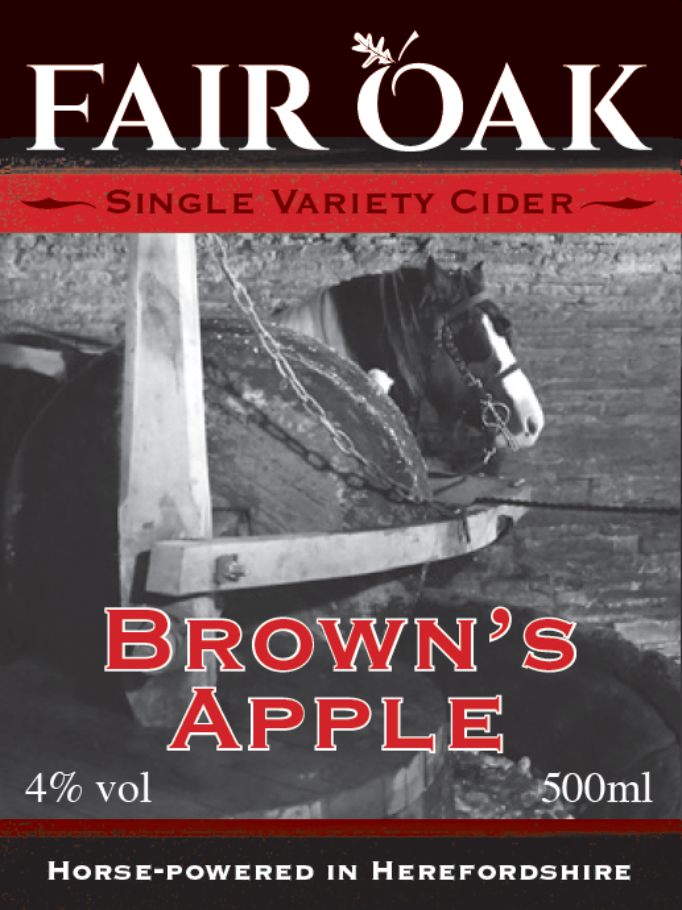 Our new Medium cider for 2020 is a distinctive blend of Yarlington Mill, Brown's Apple, Harry Masters Jersey, White Jersey, Ellis Bitter and Brown Snout. It has a balanced, rounded flavour and a golden colour.
Our 2020 Medium Dry cider is a blend of Yarlington Mill, Kingston Black and Foxwhelp – all well-known traditional cider apples. It has a lovely amber colour, and a well-balanced, sharp, lingering flavour.
As usual, our ciders contain no artificial ingredients – just apples.
---
Fair Oak Sparkling Cider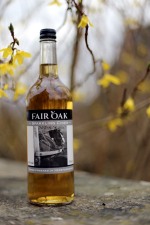 In 2018 we approached Westons of Much Marcle, a long-established Herefordshire firm, to ask them to bottle a batch of Fair Oak sparkling cider. It proved so popular that this has now become a regular arrangement.
Mark Yemm at Westons said: 'We're really pleased to be working with Fair Oak and their traditional cider-making methods. Although our founder, Henry Weston, would have been familiar with the use of horse power back in 1880, it's not something we are used to seeing in our production processes today.'
The cider is medium-dry, gently sparkling and crystal clear, and is delicious served chilled, as an aperitif or with food. We call it, slightly tongue-in-cheek, Herefordshire's answer to Prosecco.
---
Cider apples
There are hundreds of different cider apples, described as bittersweets, bittersharps, sweets or sharps*. Bittersweets and bittersharps are high in tannin; bittersweets have high sugar levels and bittersharps are more acidic. Sweets are quite similar to dessert apples; and sharps are more like cooking apples.
Among the apples that we use are:
Dabinett, a full bittersweet, probably grown since the early 19th century. It is small, greenish yellow, flushed and striped with red, and has a strong aroma when ripe. It produces sweet, astringent juice, and a bittersweet cider with soft, full-bodied astringency.
Foxwhelp, a bittersharp which has been known since the 17th century. It is bright red, and on its own produces cider with a musky flavour and strong aroma. It is generally blended with other apples to give strength and flavour.
Kingston Black, a bittersharp, thought to have been discovered at Kingston in Somerset in the mid-19th century. It is small, with a dark maroon flush, and produces a full-bodied cider with a distinctive flavour.
Yarlington Mill, a medium bittersweet, said to have been found in Somerset in the early 20th century. It is a small, pale yellow apple with a red flush, and produces sweet, slightly astringent cider with a good aroma and flavour.